In May 2022, FSP hosted 'The Power of Perspective: Taking Positive Action for a Diverse & Inclusive Workforce', at Mortimer House in London, for an informal and relaxed conversation about a number of important topics.
Our CEO Simon Grosse led the insightful panel discussion with our authentic and inspiring group of panellists; a huge thank you to Danielle Antoinette Bowman, Co-Founder & CMO at Found By Few, Justin Placide, Co-Chair of The Civil Service Race Forum & The Faith and Minority Ethnic (FAME) Network, Nusrath Hassan, Senior Business Development & Account Manager at Inclusion Inc., and Brett Davies, Head of RPO & Learning at Global Sports, for sharing your personal experiences, insights and knowledge on how we can go beyond words and take positive action when it comes to equality, diversity and inclusion.

We were joined by a fantastic group of individuals from a broad range of industries. It was wonderful to hear so many perspectives and listen and learn from one another about how we can be better individuals and make a positive impact in the workplace. We were delighted to receive incredible feedback and very much look forward to events like this in the future.

As a climate positive workforce, we joined up with our partner Ecologi, to plant a tree for each guest that attended our event, to offset travel.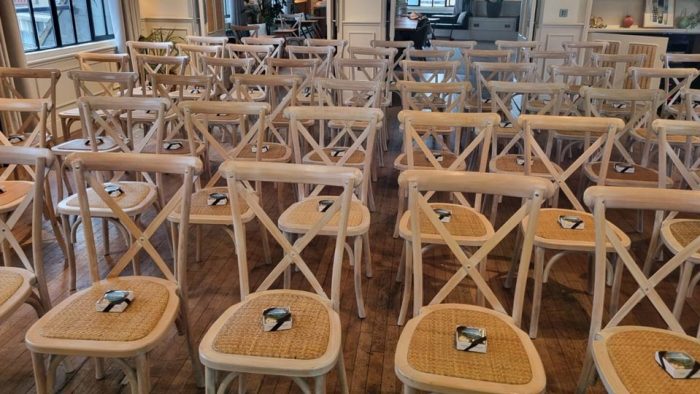 Some feedback of our panel and guests:
Justin Placide – Co-Chair, The Civil Service Race Forum & The Faith & Minority Ethnic Network (Panellist)
"Just wanted to say a massive thanks and well done to everyone – the whole FSP team and the panel, for sharing your experience and wisdom. I've been to a few things like this over the years and can honestly say today was the most fun, relaxed and genuinely thoughtful discussion from the whole room."
Danielle Bowman – Co-Founder & CMO, Found By Few (Panellist)
"Thank you for organising this event, it was very moving and empowering. We are always up for collaborating."
Brett Davies – Head of RPO & Learning, Global Sports (Panellist)
"Great to be in the room for this and thanks for hosting FSP. Fantastic stories and advice from our panel – lots of ideas to think about how we can make more enjoyable, inclusive and diverse places to work!"
Nusrath Hassan – Senior Business Development & Account Manager, Inclusion Inc. (Panellist)
"Inclusion and Belonging speaker René Carayol, says 'inclusion is heart'. The panel's honesty and authenticity at FSP's 'Taking Positive Action for a Diverse & Inclusive Workforce' event was exactly this. As a takeaway at the end of the panel discussion, I loved what was said about kindness – it was just so spot on."
Alan Makawa – Senior M365 Consultant, FSP
"So proud to be working for an organisation proactively thinking about Diversity and Inclusivity. I want to thank the panel who were honest and insightful in sharing their experience in this space.
Key takeaways for me were:
Everyone is a leader – Take the initiative to discuss issues and break barriers in whatever role you are in.
The importance of coaching – It takes a hand reaching down to pick up someone. Take time to look around and find someone you can inspire.
Relatable role models in the workplace do not always have to look like me or be from the same background."
Jane Bekoe – Race Matters Project Midwife, Royal College of Midwives
"The event was a great thought-provoking discussion lead by the panellist that included the lived experiences of equity and diversity in the workplace."