By Vickie Birnie, FSP Training Lead, Digital Change & Adoption 
How do you deliver training that lands well, makes an instant difference, and has a lasting impact?
Our Digital Change and Adoption Training Lead, Vickie Birnie, explains the FSP approach for achieving just that.
Have you ever thought that you could save time and money by buying off-the-shelf training solutions, only to find that you've ended up somewhere you didn't want to be?
Off-the-shelf training jumps straight to the solution, failing to analyse what you want people to be able to DO as the result of the training – so it doesn't address the learning needs.
"If you don't know where you want to go, it doesn't matter which path you take." – Alice in Wonderland.
We follow the ADDIE cycle of instructional design to ensure we know your destination. Our training boosts performance and gives a greater learning experience.
To land well, make an instant difference and have a lasting impact, our training:
Connects with client culture
Supports specific ways of learning
Speaks your language
So let's take a deeper look at the ADDIE cycle to get a better understanding of how it works: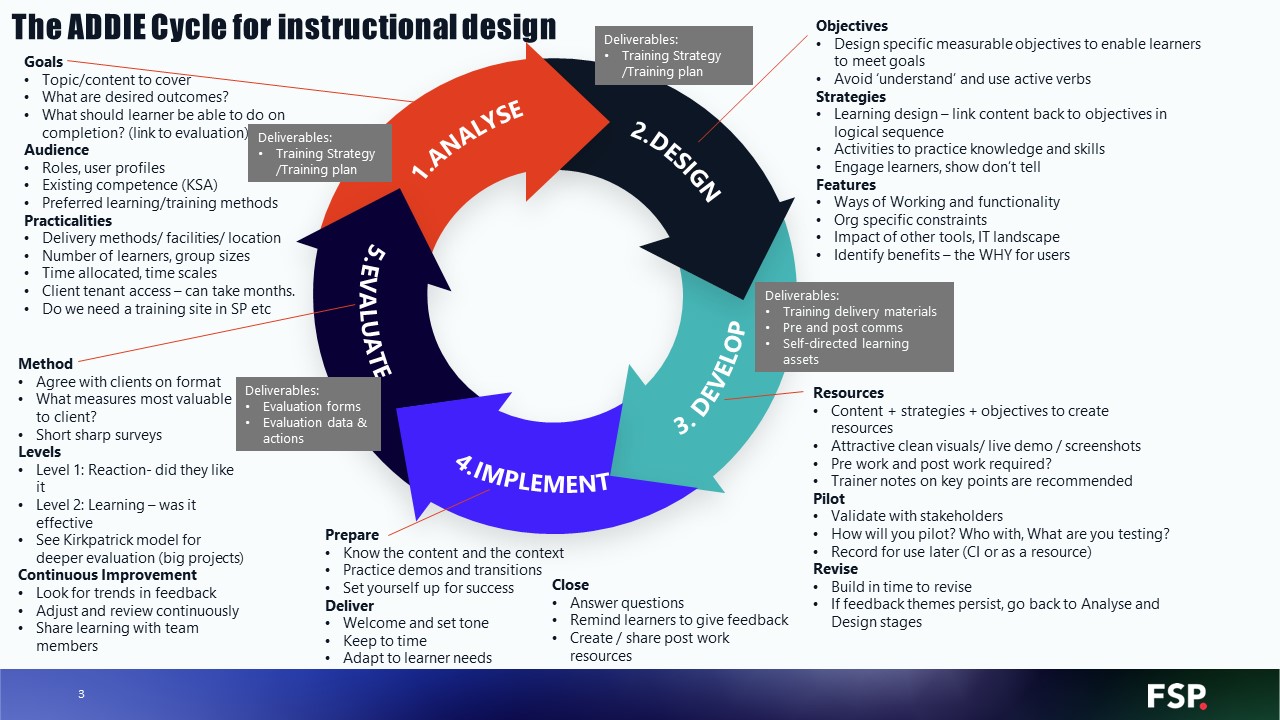 The benefits of the FSP approach are that our training uses your language, your examples, your functionality, and your ways of working. This means more to learners because they can see how changing behaviours will help them perform their roles. They are more confident, have less of a gap between theory and practice, have better retention – and better performance as a result. This gives a better return on your investment, with training delivering the intended outcomes first time. No more dragging people from their day jobs to learn random functionality they might never use!
What is the secret of stand-out training? To analyse your needs, know your destination, and to craft an effective route to reach there!
To discuss your training and skills needs, contact us at Contact – FSP
For more information on our Digital Change & Adoption services, visit Digital Change & Adoption – FSP